Interview of Presdient Farish conducted by Jillian Jennett
Dr. Donald J. Farish is the tenth and current president of Roger Williams University. He has been at RWU since 2011.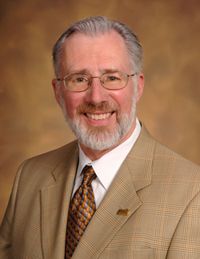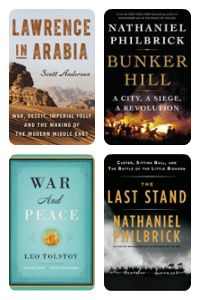 Recent Reads: President Farish tells us he often has many books going co-currently. However, he concedes, "I have a nasty habit of bringing books with me on trips and leaving them half unread." Still, Dr. Farish presently is deeply engaged in Lawrence in Arabia by Scott Anderson. "It gives an entirely different insight into the famous story of Lawrence; much more factually based, it's a breath of fresh air." He is also reading Bunker Hill and The Last Stand, both by Nathaniel Philbrick (author of Mayflower—the 2013 Common Read).
Memorable Books: "War and Peace, it has to be my favorite book of all time. When I was in college, I had two weeks to kill between the end of school and the start of my summer job. I read for hours every day and when it was over, it was over; and I loved it." When it comes to a favorite author, Dr. Farish goes right to John Steinbeck, citing his style and fluidity of his stories as something to be cherished.
Earliest Reads: "The first books I ever loved were the Hardy Boys. They were light and didn't have much substance, but I still eagerly awaited each and every new book."
_________________________________________________
What are people in the Roger Williams University community reading? The From the Nightstand team asks which books are on people's nightstands—either being read, or waiting to be read.
_________________________________________________