Interview conducted by Zachary Mobrice.
Dr. Andrew Workman, is Provost and Senior Vice President for Academic Affairs. He has been at RWU since 2012.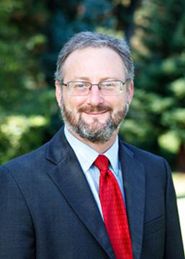 Recent Reads: Provost Workman's current reading reflects his extensive research and study of history, and is grouped into schemas according to topics. The first grouping, he tells us, was sparked by the captivating story of Mayflower by Nathaniel Philbrick, RWU's 2013 Common Reading selection. It led him to three other books discussing colonial/revolutionary America: The Name of War by Jill Lapore, The Marketplace of Revolution by T.H. Breen, and Minutemen and their World by Robert Gross. For the second grouping, Provost Workman turned to World War II and post-war Europe, having recently finished Bloodlands: Europe Between Hitler and Stalin by Tim Snyder, and Endgame, 1945 by David Stafford.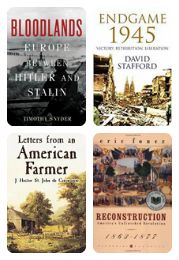 Memorable Reads: Reconstruction: America's Unfinished Revolution by Eric Foner, who Dr. Workman believes to be "the best U.S. historian of our time."
Essential Reads: "Plato, Socrates, and Aristotle are essential reads for those who wish to become both morally sound and knowledgeable in the way America works; these Greek philosophers were, after all, the revolutionary thinkers whose ideologies became the basis for our government." The provost also recommends Letters from an American Farmer by J. Hector St. John de Crevecoeur, a series of fictional letters written by an American farmer in the years prior to the American Revolution. Published in 1782. "It is an early take on this multi-cultural, multi-ethical, multi-racial, new nation."
_________________________________________________
What are people in the Roger Williams University community reading? The From the Nightstand team asks which books are on people's nightstands—either being read, or waiting to be read.
_________________________________________________