Interview conducted by Zachary Mobrice
Professor Renee Soto has been on RWU's Creative Writing faculty since 2004.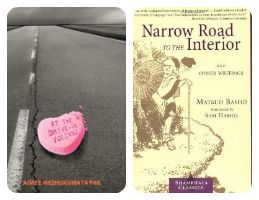 Current Reads: Narrow Road to the Interior by Matsuo Basho. At the Drive-In Volcano by Aimee Nezhukumatathil. And Core Samples from the World by Forrest Gander. These three literary works follow the Japanese writing style of haibun, which combines works of prose and haiku into one entity; it is frequently used (as in Basho's case) to document travel. Professor Soto is also reading Free-Range Chicken Garden, which, as the name may suggest, teaches one how to create an effective chicken friendly yard.
Upcoming Reads: Thoughts to Fold into Birds by Soto's friend Julie Funderburk—"a sort of chapbook of poetry."
Memorable Reads: Charlotte's Web by E.B. White and the Henry Huggins series by Beverly Cleary are two important childhood reads. They taught her how to cry and laugh with a story. "I discovered that what happened in the book was both inside of me as well as outside of me." Salvage the Bones by Jesmyn Ward, a sad and beautiful story about Hurricane Katrina, is another important book.
Essential Reads: How to Live by Sarah Bakewell. "It's a biography addressing questions raised by 16th century essayist Michel Eyquem de Montaigne on how to properly and happily live your life."
_________________________________________________
What are people in the Roger Williams University community reading? The From the Nightstand team asks which books are on people's nightstands—either being read, or waiting to be read.
_________________________________________________